Rear R-1/ Front 4WD
Rear Tractor R-1 & Front 4 Wheel Drive Agricultural Tread Tractor Tires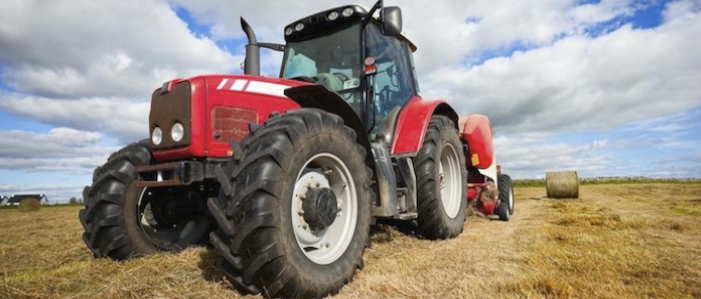 R-1 Agricultural tires are general all purpose rear tractor tires designed for use in the field and on the road. They can be used in a variety of conditions and applications due to the multi-angle long bar design.This is the most aggressive tread design for optimal traction in the field and in muddy conditions. R-1 lug treads are also designed to be self cleaning for muddy conditions.
2WD, MFWD and 4WD tractors have significant differences in the ways they are used and how hard they are worked. Work application (such as row crop vs. open field), soil type and amount of usage that will determine tire needs.
Popular Products for Rear Tractor
BKT AS504
BKT TR 126
BKT TR 135
BKT TR 144
BKT TR 171
BKT Agrimax RT 855
Carlisle R-1 Farm Specialist
Titan R-1
Titan Hi Traction Lug
Titan Hi Power Lug
Titan Hi Traction Lug Radial
Rear Tractor Tires feature deep tread  bars that are designed for maximum traction required for pulling heavy loads or large pieces of farm equipment. R-1 tires are also used as front tires on 4WD and MFWD tractors. They are manufactured in both bias and radial type construction and have different tread depths for different types of  soil conditions. To learn more about choosing radial vs. bias, please visit the FAQ page. WE have a collection of quick videos that should at least give you a good place to start. If your equipment is 2WD and you need a front tractor tire- please click here.
Rear Farm Tires In Stock- ready to ship!
Ken Jones carries and stocks the full line of the best industry brands such as Titan, BKT, Carlisle and Mitas. These products are generally not stocked by most tire dealers. As speciality tire experts, we are the "go to" source for the best selection of brands and sizes for tractor tires and other specialty products. Offering good, better and best choices is what sets us apart. Unlike many other online sources, we welcome your phone calls and your questions. Finding the right tire, tire chain or tire tube for our customers is our highest priority.
Radial vs. Bias
When choosing the right tire for your tractor, you have to look at your decision as an investment not a purchase. Deciding on bias vs radial tires is a big decision and requires some thought. Since you will be using your equipment for multiple tasks around your property, work conditions and load capacity become important factors to consider when deciding on which tire best fits your needs.
Some tractor attachments add thousands of additional pound to the load, so most importantly, you must have tires that can carry the load.Did your current tires on your tractor perform well in terms of traction, wear, ride and overall value?
Many times bias tires perform to your expectations and are priced less than radials.
Not sure what you need? Our farm tractor tire experts are just a phone call away! We actually encourage you to call us and we will help you find the right tire for your budget and application. Ken Jones Tires has been helping our customers find the right Front 4WD Agricultural and Rear R-1 Tractor Tires since 1938.
Popular Rear Tractor Tires
BKT TR 171
BKT TR 126
BKT TR 144
BKT TR 135
BKT Agrimaxx RT855
BKT AS504
Carlisle R-1
Titan R-1
Titan Hi Traction Lug
Titan Lug Radial
Titan Hi Power Lug
Click here to find out more about all Farm Tires
Any Questions? Just Give Us a Call…